Don't be jealous, but I'm outta here. Headed for late afternoons on the lake watching the sun paint its canvas before settling in for the night. Walks with my Golden … fishing with my grandkids … hitting the road with my beautiful bride. But before I go, I thought I might share a few parting words, 'My Last Call', one company principal to another. I hope you'll see them as words of wisdom.
I've enjoyed 44 years as a professional designer. Linking arms with great companies large and small as we innovate, develop amazing products, and bring consumers the best experience possible.
Many times during my consulting career I've felt like this: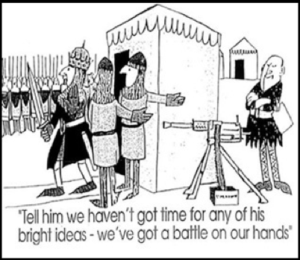 We have incredible tools to help manufacturers win in the marketplace. The problem is they feel too busy to consider what we offer. Guiding companies toward providing an excellent consumer experience through their products is why I got into this business. The good news as BOLTGROUP's President is that I've helped dozens of our clients breathe new life into their markets and experience levels of success beyond expectation.
So, here's the first nibble of four decades of wisdom:
Make Your New Product Development Investments Count
Why do 70% of all new products fail? Consumers don't want them (or don't prefer them to alternatives). That's the sort of thing you need to know before you invest. So, if consumers aren't part of your development process, that critical fact may go unnoted.
The two key places consumers can make a difference in your New Product Development (NPD) process are:
Early in concept definition for insight discovery.
Later in concept selection and modeling for validation of your solution.
Of course, you'll want to take these steps before spending big bucks for things like tooling, production line, material acquisition, or marketing.
In my experience, too many companies settle for incremental improvements. Don't be one of them. Don't be focused on your competition or on developing what your retailer suggests. And most important, don't be silent as senior management teams create obstacles for NPD success. Often without even realizing it. I know it's tough at the top where every decision affects staff, their families, and the families of customers who buy and use your products. Every decision must be made with care and integrity—and with an eye toward risk and reward.
Nonetheless, my message to manufacturers is to do more to improve the experience users have with your products! Be bold. Be brave. And be smart.
Put these five tools into action and just watch what they build!
1. Benchmark the experience you're providing to consumers right now.
Do the same for your competition. Then raise your NPD expectations. A lot. Not necessarily disruptive innovation …. but definitely genuine innovation.
2. Make consumers part of the solution.
Remember, the biggest barrier to new product success is a poor product fit for the market. Foster a consumer–centric culture at your company. Increase the conversations you're having with consumers. Go into the field. Observe, listen, and learn. Use insights to create compelling new solutions that will excite consumers. Experience matters here. Navigation assistance from experts like BOLTGROUP can mean the difference between ending up in the weeds or on the "best new products" list.
3. Make your NPD goals worthy of the time and resources you'll put into them.
Plan for success. Challenge your marketing and NPD teams to aim high and develop a value proposition that will rock your consumers' world. Give your consumers a solid reason to choose you!
4. Seek and destroy barriers that keep your NPD team from achieving success.
The team needs support from the top to get this done. This needs to be part of the CEO's long-term vision. NPD isn't just a focus on next year or for holding shelf space, or playing keep-up with competition. It is the long game. NPD talent is important too. While it makes sense to limit time and budget to turn around an underperforming manufacturing operation, it is deadly to NPD. Give your NPD talent the time and resources to run a strong discovery phase, robust testing, and to nail down early on the solid criteria needed for worthy programs to succeed.
5. Oh, and while you are at it …. innovate faster!
This may be my last blog. Across my entire career, one of the accomplishments of which I am most proud is being part of building a thriving company and creative team. A team that cares deeply about helping clients develop new products and brand experiences that consumers love.
So, if you want to raise the bar and improve your customers' experience, give BOLTGROUP a call. But remember to ask for Monty, Jamey, or Ed, because I've traded in my machine gun for a fishing rod.