Press Release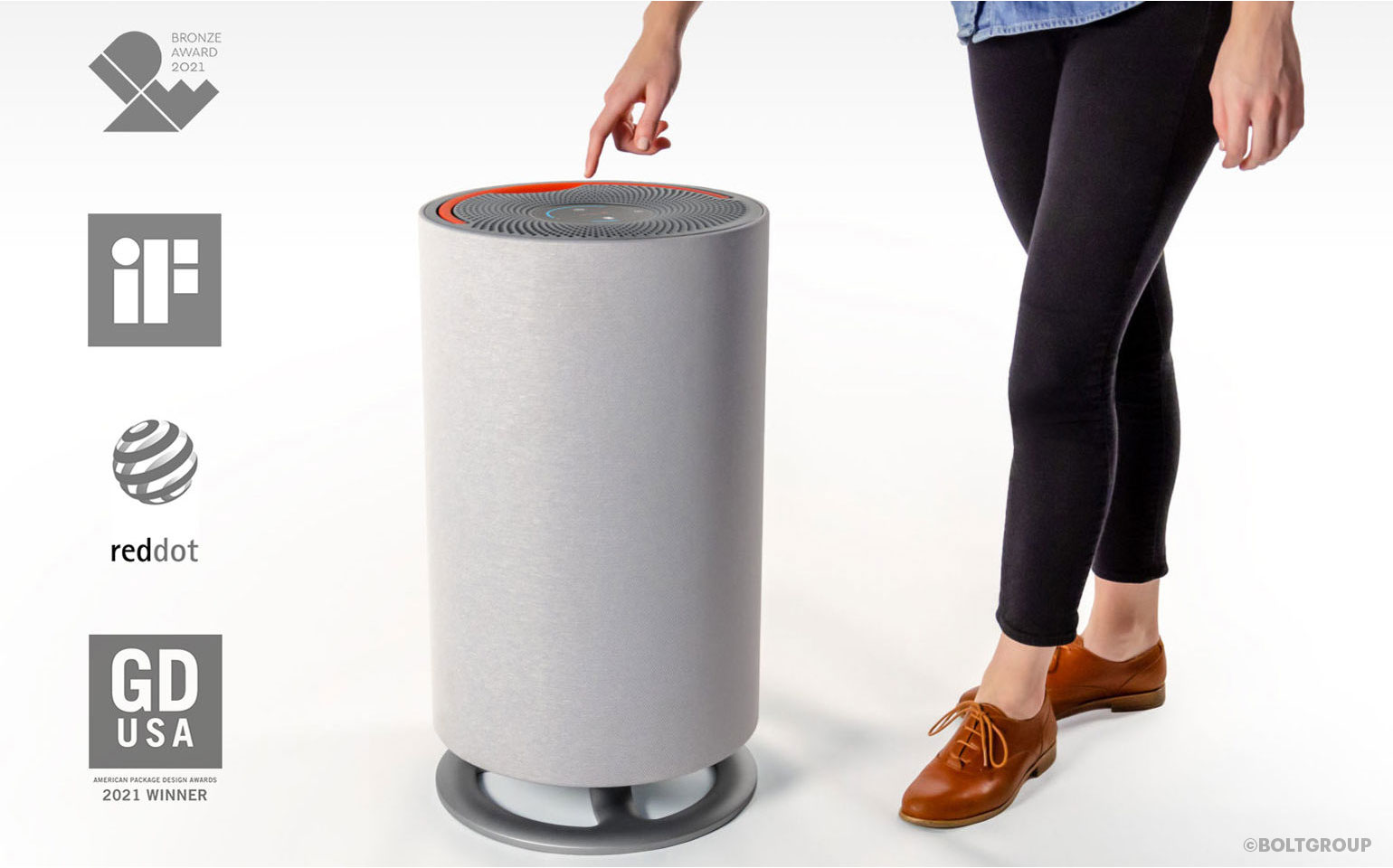 August 6th, 2021
BOLTGROUP and Oransi Bring Home Major Design Award Wins in 2021
When we first began working with Peter Mann, founder and CEO of Oransi, to develop a better air purifier, we never could have imagined what would come of our partnership. At the time, air purifiers were a somewhat niche category of health products, with few great options for consumers. Oransi was doing pretty well making high performance air cleaning products marketed to consumers with serious air quality concerns. They appealed especially to asthma and allergy sufferers.
We saw a need at the time for a high performance air purifier that people actually want to have in their home. We hoped to use thoughtful and beautiful design to elevate the product from a "necessary health appliance" to "welcome guest in the home".
During the ensuing weeks and months as we refined our design, honing and testing it with Oransi's expert airflow engineers, developing it into a manufacturable and marketable product, something happened that changed the world's perception of air forever: An airborne pandemic was sweeping the globe. A deadly virus called COVID-19 was spreading rapidly from person to person through the air, especially in crowded indoor spaces. Eventually the CDC and other health organizations recognized that HEPA-quality air purifiers were an effective way to reduce the spread of the virus indoors. Suddenly, air purifiers weren't a niche category. They were a necessity.
Proliferating almost as fast as the virus, wave after wave of poorly designed and ineffective air purifiers flooded onto the market alongside the launch of our Oransi MOD Air Purifier. But rather than get lost in the deluge, the MOD floated to the top. The MOD is Oransi's fastest selling product of all time and has been recognized with the Bronze IDEA Award, Red Dot Design Award, iF Design Award, and the American Package Design Award. Local business press has taken notice, and customers are raving about the quality of the air cleaning, and the beauty and elegance of the design.
Like other Oransi products, the MOD is a high performance air cleaner—there is no doubt about it. Oransi backs up their claims by publishing 3rd party testing data, so that is easy to see. What helps MOD stand out is the welcoming design and careful attention to detail. This isn't just a great air purifier, it's the best.
BOLTGROUP would like to congratulate Oransi and the designers Kurt Rampton, Kelly Custer, Joseph Smeltzer, Holly Coggins, Steve Gerstein, Jamey Boiter, Alyssa Baker, Andy Kiser, and Chris Cureton.
Based out of Charlotte, NC, BOLTGROUP is a design innovation firm that helps clients worldwide create innovative design solutions that transform their products, brands, and services into higher performing assets. We work with organizations of all types to create experiences benefiting their business, people, and community. Learn more about BOLTGROUP at boltgroup.com, or by calling 704-372-2658.
Let's Connect
We welcome questions, comments, stories and (good) jokes.