COLOR ATLAS
Do You Dream in Color?
BOLTGROUP developed a visual brand identity for Color Atlas™ by Archroma, including color library, website, mobile app, how-to videos & showroom design.
What We Did
Brand Strategy
Brand Architecture
Brand Naming
Visual Identity System
Experience Design
Showroom / Conference Room
Brand Design + Communications
Color Palettes
Brand Guidelines
Product Design
Brand Coaching + Training
Brand Stewardship
Brand Production
Packaging
Fabrication Coordination + Fulfillment
Video Production
Direct Mail
Collateral
Website
UX
Advertising
Art Direction
Challenge
Every memory has a color. Just like a smell, it evokes a feeling. But a color cannot exist outside nature unless it can be manufactured. Archroma Textile Specialties, a global color and chemical company with US headquarters in Charlotte, formed a new Color Management group to focus on providing globally reproducible, technically sound color standards to designers, trend analysts, color offices, and supply chains. Perfect color reproduction across the board.
Now the new business unit needed a sub-brand strategy. One that would allow Archroma to compete on a global scale with products superior to anything on the market. To capture both the art of color and the science of color, Archroma turned to BOLTGROUP.
Solution
A deep immersion with the Color Management team yielded a focus for the brand on customer-centered innovation, passionate color experts, and reliable dedication. All emotive qualities present in the business.
A product strategy and brand strategy would work together to delight the customer with intuitive design tools and inspired imagery. The approach had to reflect the new business unit, and also fit within Archroma's global corporate identity system. How could we transform the voice of the brand from science to art, while maintaining the brand pedigree they owned? Through great design. We developed a full visual brand identity for "Color Atlas by Archroma™," including color library, website, mobile app, introduction, how-to videos, collateral, trade ads, and showroom / conference room design. All focused on our target customers. When presented to executive staff in Switzerland for approval, Muriel Werle, head of communications simply said, "This has made me fall in love with Archroma all over again."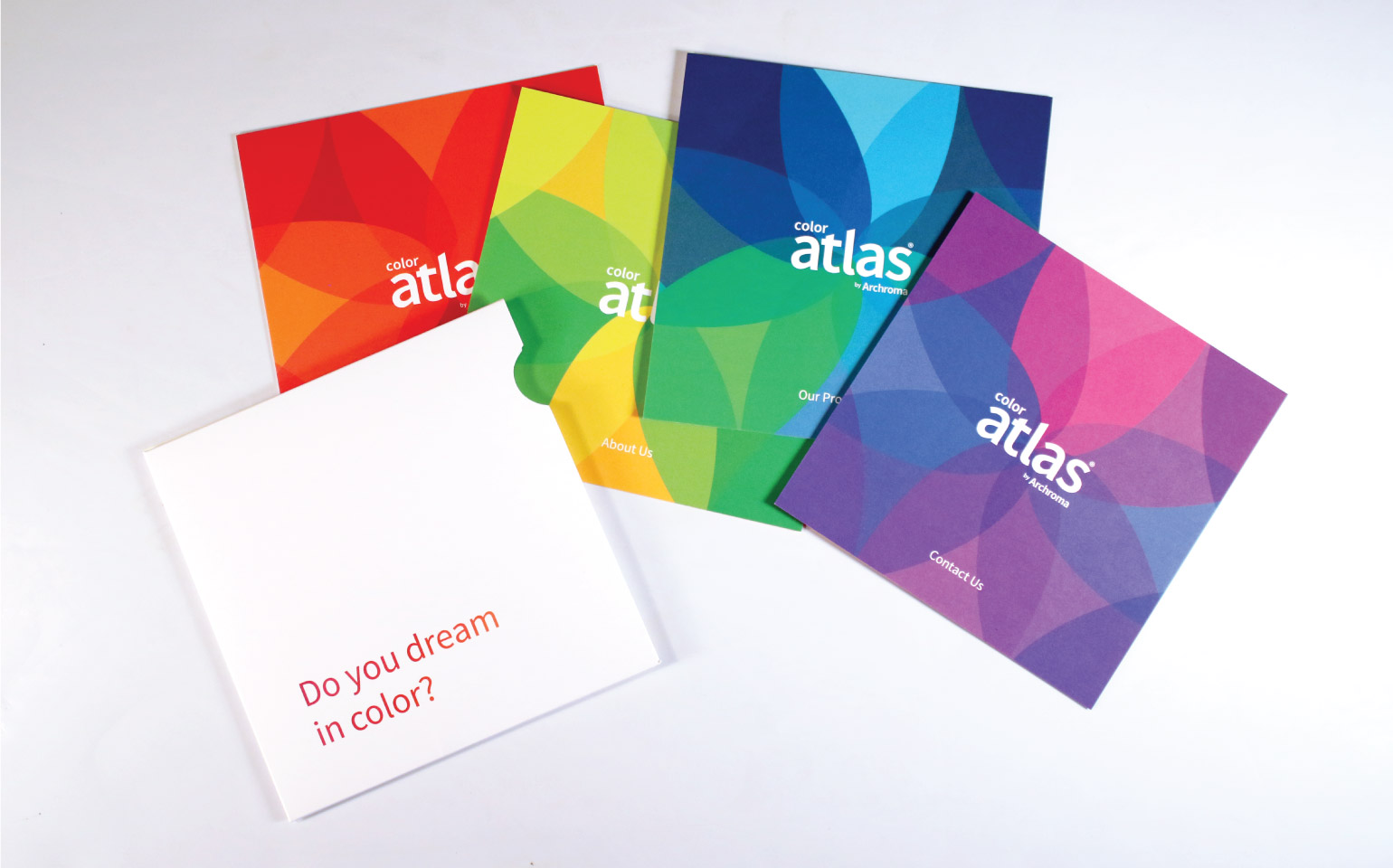 Result
As designers, designing for designers, every touchpoint and experience had to evoke emotion, backed by knowledge. Focused on the brilliance of 4,000+ available colors, each application reflected the values of the business, the science within the technology, and the art of color. "BOLTGROUP was able to translate our technical expertise in color management into a visual and verbal brand identity system that speaks volumes as to our capabilities, in all mediums," said Chris Hipps, Director of Global Operations for Archroma Color Management Services.
A global rollout of Color Atlas by Archroma in eight languages is reaching designers, analysts, sourcing, and mills. The promise is that the designer's inspiration can be meticulously reproduced, time and time again. Because our business is your color. Dream come true.
The BOLTGROUP team immersed themselves into our business, understanding the vision we had for creating color management tools that would help our customers. And then turned that vision into living color with the Color Atlas brand program. Beautiful.

— Brad McClanahan, Global Head of Business, Archroma
Let's Talk
Fill out the form below and we'll be in touch soon. Or, give us a call at 1.888.GET BOLT. We look forward to exploring possibilities.