charlotte mecklenburg library
Service Design Inspires an Evolution in Charlotte
BOLTGROUP helped the Charlotte Main library broadly consider its mission and used design thinking to evolve library services into adding a makerspace.
What We Did
Consumer Insights Research
Service Design
Furniture Design
Interior Space Planning + Design
Strategy Planning
Design Thinking
Challenge
Brick and mortar libraries around the world are reassessing their place in society. Book reading is declining as mobile technology provides information at our fingertips. Communities are asking, "What is the role of a library, and do we need large costly buildings to enclose information?" This was the case with the Main Library in center city Charlotte, NC. Situated on valuable real estate downtown, the massive library was threatened by declining use and increasing land values. Some city leaders felt the library should remain but evolve into a new space. Others believed it should be eliminated altogether—its books distributed to neighborhood libraries and online access. BOLTGROUP was hired to help the library broadly consider its mission and use design thinking to evolve the library's services.
Solution
Community involvement was key to the library's evolution. Library staff held focus groups where the notion of a makerspace (community centers with tools) was proposed. BOLTGROUP facilitated community ideation sessions to discuss what might the library become. One common theme was, "A place to get ideas and implement ideas." The makerspace concept fit the bill. Library users would have free access to the latest in 3D printers and other maker equipment, as well as training from library staff. BOLTGROUP conducted research with two user groups: library visitors and library staff. We also held sessions with operators of other makerspaces to learn from them. Based on our newly gained empathy with the user groups, we created a user experience map—a diagram of each experience point from library entrance through to the makerspace. The resulting Idea Box is actually a "prototype" of a makerspace. We designed the space to be highly flexible so it could be tested and refined based on user needs. We specified the equipment from 3D printers to laser cutters, and designed the architectural space with custom mobile worktables, lighting, and power access.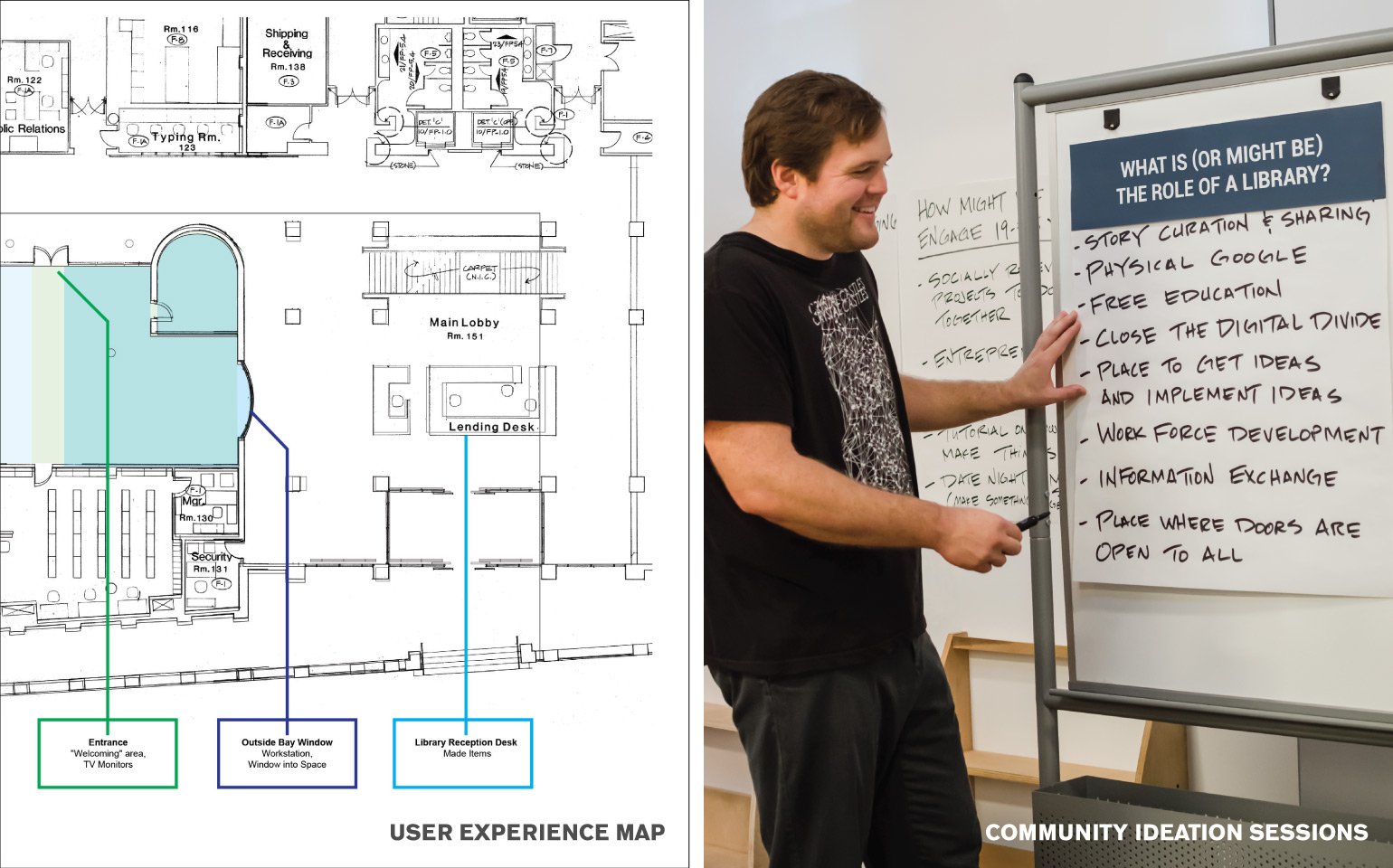 Result
The Idea Box has become a successful addition to the library's service offerings. Classes range from prototyping for entrepreneurs to 3D holiday card making. Most important, the makerspace has expanded how the community views a library—no longer just a repository for books, but a place for learning, co-creating, and making. Knowing the Idea Box would evolve as user needs evolved, BOLTGROUP designed the Idea Box to be agile and adaptable to change. And fortunately, the city has recognized the value of the library, choosing to keep it as the hub of a new development project on its current site, where the library will become the "public commons" of downtown Charlotte.
Let's Talk
Fill out the form below and we'll be in touch soon. Or, give us a call at 1.888.GET BOLT. We look forward to exploring possibilities.