dematic
Automated Guided Vehicles: Modular Design VBL
Through the principles of Design Innovation and Design for Manufacture (DFM) BOLTGROUP worked with Dematic to develop a modular family of autonomous vehicles with longer product life and improved serviceability, plus a 25% reduction in manufacturing costs thanks to improved manufacturing efficiencies.
What We Did
Industrial Design
User Research
Visual Brand Language
Mechanical Engineering
Manufacturing Support
Finite Element Analysis (FEA)
Prototyping
3D CAD Modeling
Production Part Documentation + BOMs
Design for Sustainability
Modular Design
Design for Efficiency
Design for Life Cycle
Challenge
Dematic came to us as a leader in the rapidly evolving technology of automated guided vehicles (AGVs). Their advanced warehouse guidance technology was state-of-the-art, backed by an outstanding reputation for quality and a loyal customer base. It was time to update and modernize their vehicle designs to respond to customer demand for more energy efficient, faster, and nimbler vehicles capable of navigating narrower aisles and tighter warehouses. They were also facing competition from lower priced competitors, pressuring them to find ways to reduce costs and increase value.
Dematic wanted to introduce a modular platform with improved manufacturing costs, a more intuitive human / machine interface, and better access for repairability. They also wanted the vehicles to have a sophisticated, advanced aesthetic that matched their technological capability.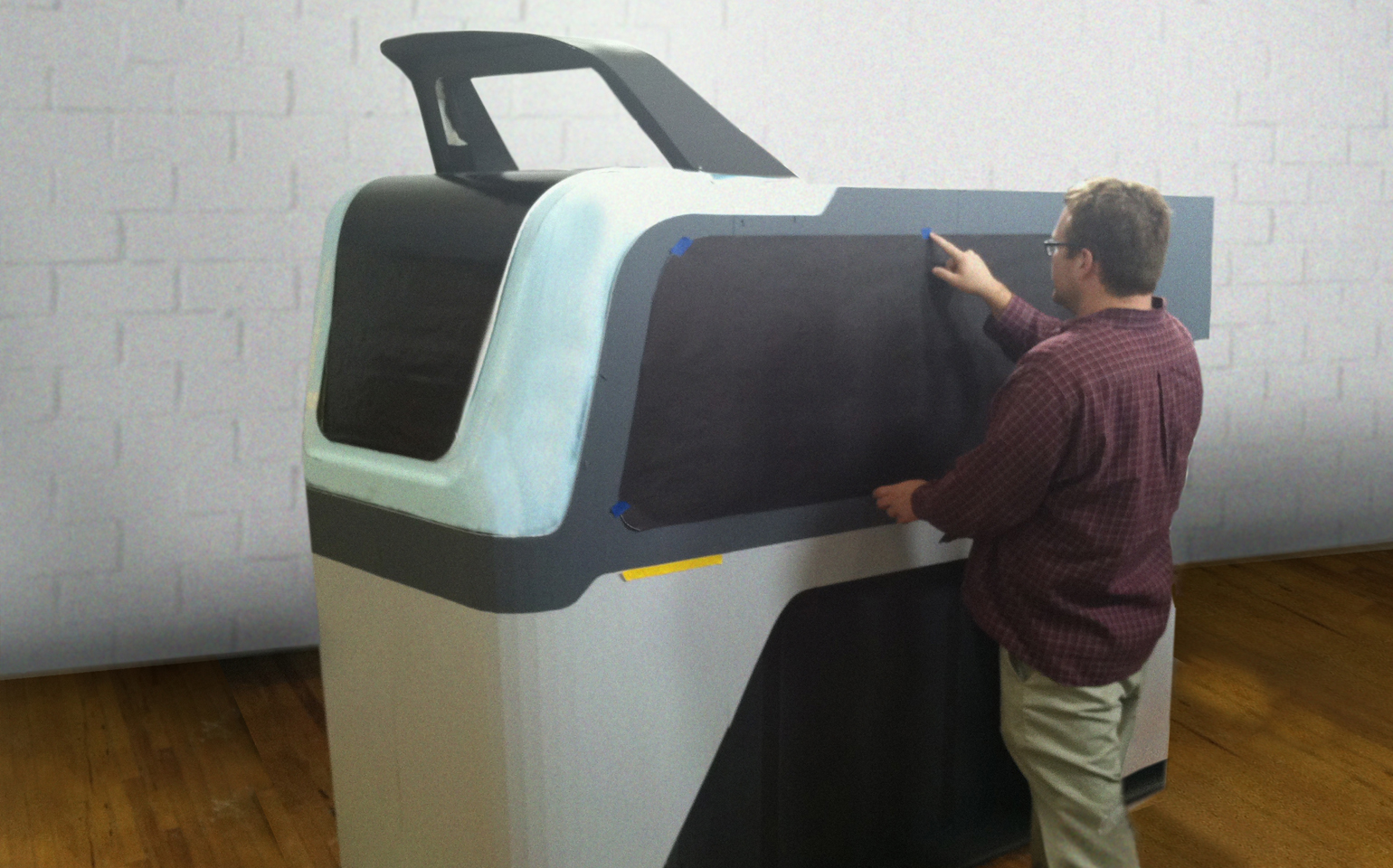 Solution
BOLTGROUP engineered a modular frame / chassis design with slot-and-tab construction that combines like LEGOs for faster and easier assembly with less welding. By optimizing the chassis geometry, engineers were able to reduce weight, resulting in more nimble handling without any reduction in load handling capacity.
By focusing on stakeholders' "jobs to be done", designers were able to make ergonomic improvements for faster vehicle service and maintenance. BOLTGROUP engineered a multi-layered lift gate door for quick access to electronics with generous wire way access. The exterior metal and plastic body panels established a unified visual brand language on products ranging from 200 ft cranes to toaster-size omnidrive robot bases.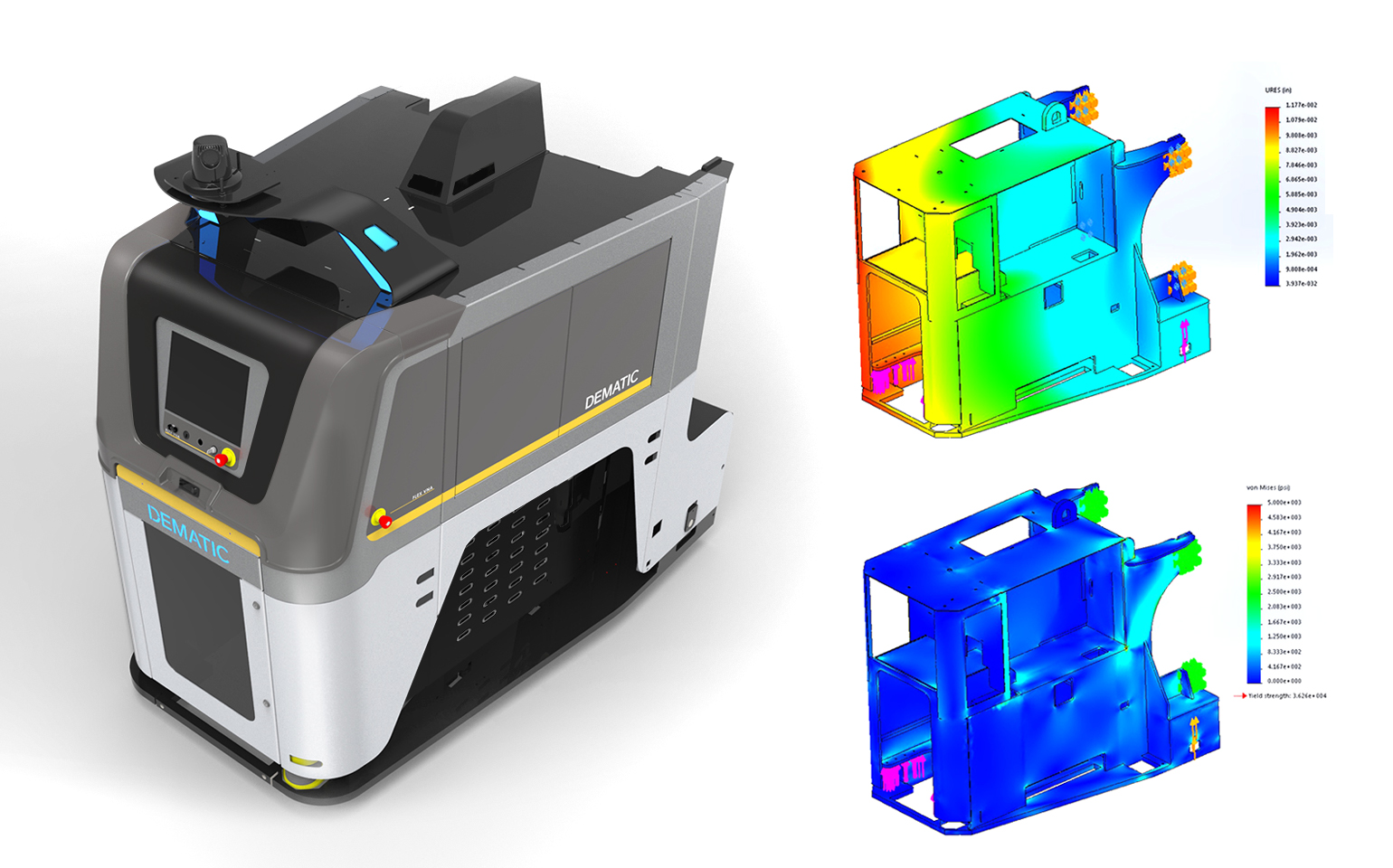 Result
The new design cost 25% less per vehicle to manufacture than its predecessor. With significantly reduced welding time, Dematic saw major reductions in labor cost, power consumed, and carbon emitted. The products are made in the US, and the supply chain was carefully considered for transportation and manufacture efficiency. So far, the reception has been exceptional, with new AGV sales outperforming expectations since the product launch.
For more insights on sustainable design, head over to our Sustainability Resource Portal.
Let's Talk
Fill out the form below and we'll be in touch soon. Or, give us a call at 1.888.GET BOLT. We look forward to exploring possibilities.