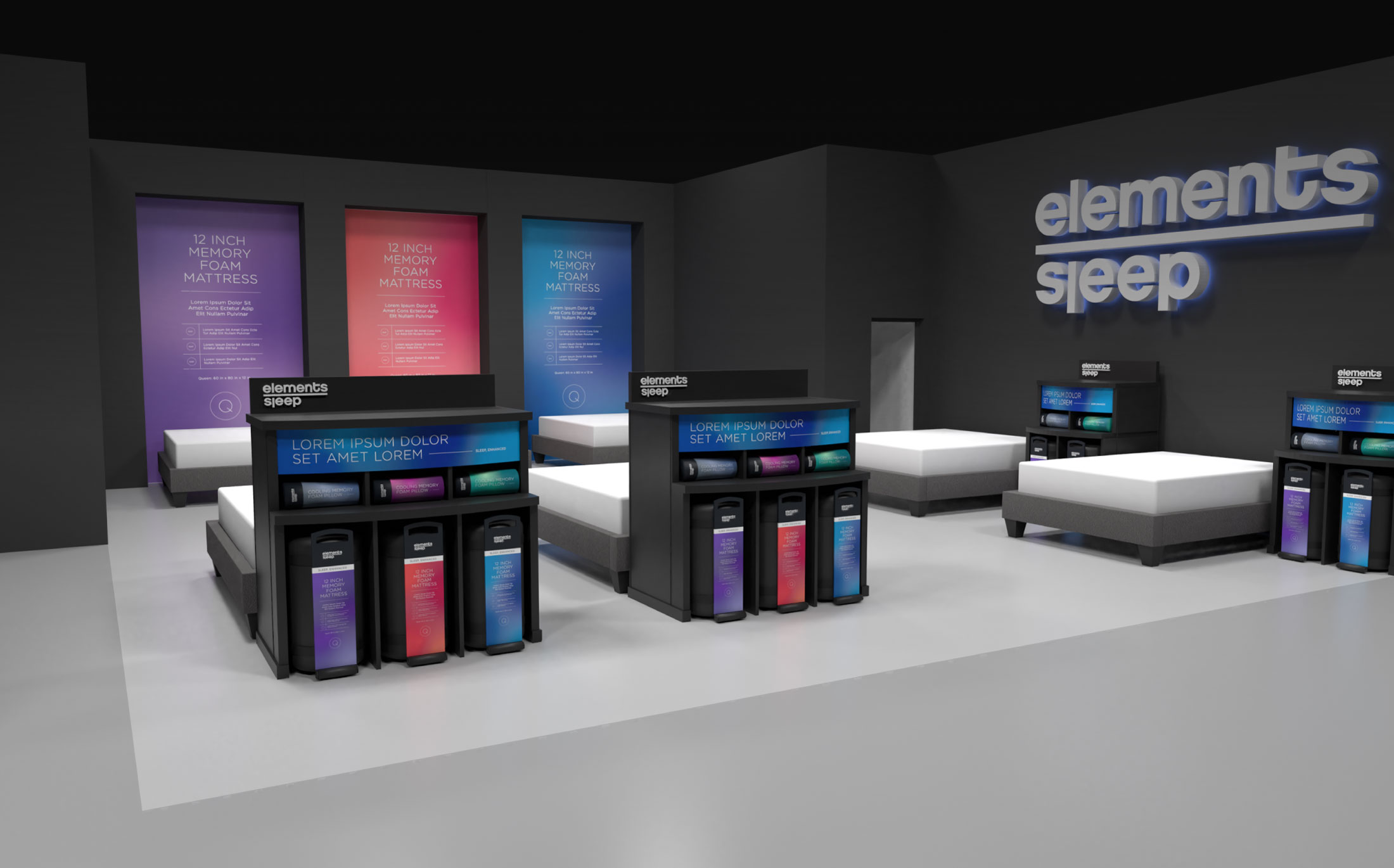 ;
Elements Sleep
Waking Up a Market With a New Technology
Elements International, a fast-growing furniture wholesaler, planned to make its entry into bedding, as they saw an opportunity to pair their current capabilities with a new bedding technology in a hot market. Looking for a strong launch, they leveraged BOLTGROUP's integrated product and brand expertise to bring a new line of products to retail.
what we did
Research
Brand Strategy
Visual + Verbal Strategy
Brand Design + Communications
Visual Identity System
Packaging Design
POS (Point-of-Sale) System Design
Showroom Design
Challenge
Elements International was building a 177,564-sq. ft. plant to support its Elements Sleep mattress program that was, at the time, without a brand strategy and identity. To prepare for its opening and the marketing of products, BOLTGROUP was tasked with creating that brand strategy and identity, along with packaging design, a POS system design, and showroom design.
Solution
After researching the competitive landscape and lifestyle trends, BOLTGROUP developed the brand strategy that helped Elements Sleep carve out a bedding brand position in the market for products that utilize new compression techniques–turning bed-in-a-box into beds-in-a-smaller-box and pillows-in-smaller-containers. This not only gives the brand a unique footprint at retail but also transforms the mattress and bedding category buying experience, better aligning it to the experience of buying smaller retail and D2C products.
With the brand strategy in place, BOLTGROUP then designed a visual identity system that embodied it. The team designed innovative and differentiating packaging, a POS system, and a showroom to further tell the story. Elements Sleep is for those looking to optimize their performance in everyday life by improving their overall health and well-being. What is every day built on? Sleep. And with Elements Sleep, you can build every day on a strong foundation.
Results
Elements International completed the construction of their Elements Sleep plant and entered the market to rave reviews. The brand is now a champion for getting the most out of life, by supporting everyday's foundation: sleep. The company continues to progress through its product pipeline, providing a continuously growing list of sleep-enriching solutions.
Let's Talk
Fill out the form below and we'll be in touch soon. Or, give us a call at 1.888.GET BOLT. We look forward to exploring possibilities.